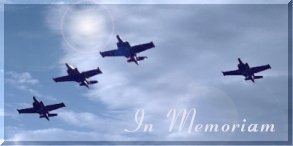 This page is dedicated to those members who have recently passed away. Our condolences to family and friends
Fred Axdal
Fred passed away suddenly on March 2, 2017 in Winnipeg, MB. He was born to Kris and Runa Axdal on January 23, 1934 during a blizzard on a farm south of Wynyard, Saskatchewan. Fred attended school in Wynyard where he excelled at all sports - track and field, football, curling. After graduating from grade 12 he worked for a time in Wynyard and then went on to pursue his dream of flying. Shortly after his 23rd birthday, he boarded the train for Trenton, ON where he trained to become a pilot. After receiving his wings at Gimli, MB he was stationed at Moose Jaw where he instructed on Harvards. It was while in Moose Jaw that he met his wife, Dorothy, and they were married July 29, 1961. Daughter Terry was born while he was stationed there. The family then moved to various posts, one being North Bay, ON where Fred had his dream job of flying the CF101 Voodoo fighter jet.
After leaving the Air Force, Fred took a job as a salesman with Firestone in Dawson Creek, BC, but flying was always in his blood, so the family travelled across the country to Montreal where he took the intensive training with Air Canada to become an Air Canada pilot. He flew out of Montreal for 17 years during which time son Shaun joined the family. He began his career with Air Canada as First Officer and worked his way up to Captain on DC9s. He always loved a challenge; therefore, his favourite flights were to the Maritimes where he would encounter any kind of weather, rain, snow, fog, winds, ice. Fred was transferred to Winnipeg in 1983, and flew out of there until his retirement in 1991. During this time and after retirement, the family lived in Carman, MB. While there, both his children were married. Once the grandchildren started arriving, he was a most loving "Afi" (Icelandic for "grandpa") and he was always involved in the lives of both his children and grandchildren.
In the autumn of 2015, Fred and Dorothy chose to downsize and move to Winnipeg, still remaining close to their family. There they remained healthy and active until Fred's sudden passing. The fellowship of Alcoholics Anonymous was very dear to Fred's heart and he always made himself available to those who needed help. In recent months, Fred had been volunteering in correctional facilities, working with inmates.
The celebration of Fred's life was held on March 7, 2017 at Portage Avenue Church in Winnipeg, during a monumental blizzard in both Saskatchewan and Manitoba. A video recording of this service can be viewed at: *http://cometogether.ca/events/2017/mar/07/fred-axdal/*
He leaves to celebrate his life: wife, Dorothy; children, Terry (Jeff Warburton) of Carman, and Shaun (Jackie) Axdal of Winnipeg; grandchildren, Alex, Nathan, Kara Warburton and Ethan and Carly Axdal; sister Audrey (and Dave) Shepherd and their family; and many other family and friends.
Robert Arthur De Athe
"For once you have tasted flight, you will forever walk the earth with your eyes turned skyward, for there you have been, and there you will always long to return." - Leonardo Da Vinci
Capt. Robert Arthur De Athe of Niagara-on-the-Lake, 79, made his last solo flight beyond on Sunday, February 19, 2017 peacefully with his loved ones by his side.
He leaves behind his wife and co-pilot Lynda Joy (Zehethofer), and crew consisting of; his son, Mark Robert, his wife Charlene and her two children and grandchildren; his daughter, Debra Ann (Herechuk), her husband Mark and their four children and two grandsons; and son, Michael Edward, his wife Patricia and their two children and one grandson. His navigators through his early years were his sister Barbara (Young), her husband Wes; and his brother Brian, his wife Colette and both with their respective children and grandchildren.
Robert (Bob), was born in London, ON, had an amazing life as a pilot; first with the RCAF for 9 years, then 31 years with Air Canada until he retired. He also enjoyed sailing, building, and had a passion for music, and in particular, the violin. He fought a long courageous battle with cancer, a war never to be won. He was loved by so many and will be greatly missed. Thank you for allowing us to join you on your flight of life.
We would like to send out our heartfelt gratitude to the amazing staff at the Niagara Hospice Stabler Centre. Bob was surrounded with so much love in his last seven weeks there. A Celebration of Life will be held at The Canadian Warplane Heritage Museum in Hamilton in the late spring. In lieu of flowers, for those who wish, donations made to the Stabler Centre in St. Catherines, would be appreciated so that their angelic compassion can continue for others.
Stanley William Nichols
Nichols, Stanley William passed away in his 94th year, January 31st, 2017 surrounded by his children.
Predeceased by his loving wife Rae of 56 years and Helen of a year. Survived by his sister Margaret Canart and sister-in-law Bernice Nichols.
Dearly loved father of Barrie Nichols (Sharon) of Calabogie, Linda Schmitter (Dave) of St. Agatha, Margaret Killey (Doug) of Deep River, Marie Nichols (Dan Corsillo) of Toronto and Carol Nichols-Tremblay (Brian) of North Bay. Lovingly remembered by 15 grandchildren; Andrea, Alissa, Matthew, Kris, Kirk, Karry-Lee, Sandi, Kevin, Sarah, Katie, Marion, Elizabeth, Aaron, Jennifer and John; and 18 great-grandchildren; Henry, Hazel, Emmy, Chloe, Cristiano, Ciara, Maddy, Caelum, Alex, Nico, Danica, Hannah, Liesl, Frankie, Isla, Elena, Daniel and Daniel.
Predeceased by daughter; Barbara, his parents; Marguerite and Hugh and his brothers; John and Robert.
Stan enjoyed a long career in aviation including 28 years with the RCAF followed by 18 years in civil aviation. Stan was an active member of the 422 RCAF (Nipissing) Wing, Airforce Association of Canada, Royal Canadian Legion Branch 23, the Manitoba Follow-Up Study and the North Bay Wood Carving Club. He was an avid wood carver contributing to both North Bay carousels.
Family will receive friends at the McGuinty Funeral Home Friday (North Bay) February 3rd from 2-4 and 7-9 pm. A Legion Service (Branch 23) will be held Friday at 3 pm at the funeral home. Funeral service will be conducted at Christ Church (Anglican) Saturday February 4th at 2 p.m. Interment at a later date.
The family would like to thank Rev. Marie Loewen for her ongoing spiritual support and Dr. Ng and the staff of C3 at the NBRHC for their compassionate care. Donations to Christ Church (Anglican) North Bay, Heart & Stroke Foundation or the charity of your choice would be greatly appreciated. Online condolences can be made at ww.mcguintyfuneralhome.com
Peter F W Hall
June 4, 1936 - January 25, 2017
Peter died peacefully at St. Joseph's hospital in Comox in the early hours of Wednesday, January 25 at the age of 80. He is survived by his beloved wife of 54 years Marlene (nee Williams), son Scott, daughter in-law Michelle and grandchildren Boston and Sierra of Victoria, and sisters Esme of Calgary and Barbara of Corona California. Peter served 25 years in the Royal Canadian Airforce flying the CF100, CF104 and the CT-133 (T-bird) in the defence of our great country. He also served 15 years at the Canadian Department of Transportation in Ottawa and Vancouver serving as a licensing officer for Canada's airline pilots.

During Peter's career he had many postings including Baden Baden Germany, North Bay Ontario, Trenton Ontario and Moose Jaw Saskatchewan.

Peter loved life.

In retirement he actively pursued Boating, Motorcycling, Golf, Music and Travel. He always left those he touched better for having known him and his community was better for having him in it. May we all strive towards his example. At his bequest there will not be a formal funeral, but has asked instead for a brief celebration of his life and interment of his ashes to be held later this spring. In lieu of flowers, donations can be made in his name to the BC Heart and Stroke Foundation.

Condolences may be emailed to
pfwhall@telus.net
.