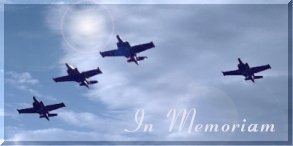 This page is dedicated to those members who have recently passed away. Our condolences to family and friends
Robert Kenneth Joseph Landry
LANDRY, Captain Robert Kenneth Joseph (Ret'd) C.D. - February 23, 1945 - October 10, 2017.
Bob 'Bobby' Landry recently left on his last flight, headed up into the sky and what lies beyond. There are so many words to describe the loving husband, proud father, and grandfather (Pepère), brother, uncle, cousin and friend he was, and here are just a few: strong, caring, helpful, full of life, enthusiastic, sincere; a teacher to all about history, world affairs, geography, and above all - how to be a good 'sportsman' when you are part of a team.
Bob enjoyed an incredible and successful career in the Canadian Armed Forces. He joined the military as a navigator and became a pilot in 1972. During his 33 years of service, Bob flew a variety of aircrafts, including: Trackers, Dakotas and the T-33 Silver Star jet. In addition to being a dedicated pilot, he was also a test pilot and a flight safety officer. In 1999 Bob was recognized with the prestigious Wing Commander's Commendation for his work in flight safety in CFB Greenwood, Nova Scotia.
He was a passionate athlete, and enjoyed great success in track and field and football in his youth. Bob was also an avid and dedicated hockey player
and took great pleasure in playing on a number of teams throughout his life. A friend to all, Bob's personal mantra was, 'I am my brother's keeper' - and he certainly was that.
Bob is survived by his wife of 53 years, Barbara (Giroux); children, Lisa (Dylan), Paul (Jessica), Aimée (Rick); grandchildren, Nathalie, Nicholas and Olivia; sisters, Michelle and Teri (Ed); nephews, Scott (Cathy) and Gregg (Pam), and nieces, Addison and Samantha. Bob may be flying amongst the stars now, but he will always be at home with us in our hearts. XO A Celebration of Bob's life will be held on Monday, October 30th at 2 p.m. in Kings Mutual Century Centre, 250 Veterans Dr., Berwick. In lieu of flowers, the family has requested that donations be made to the Society of Atlantic Heroes Recovery and Reintegration (atlanticheroes.org) or a charity of your choice. Arrangements have been entrusted to Serenity Funeral Home, 34 Coldbrook Village Park Dr. (902-6792822). Online condolences may be made by visiting: www.serenityfuneralhome.ca
Donald Harold Wright
WRIGHT, Donald Harold Sidney Born June 25, 1934 in Toronto, Ontario. Died September 25, 2017. Son of Rev. Reginald Noel Wright and Kathleen Daisy Cooper. A 'preacher's kid', Don was always proud to have attended Upper Canada College, on a scholarship. As a young man he excelled in Air Cadets and graduated with a degree in Aeronautical Engineering from the University of Toronto. He worked at Avro as a student and was forever devastated when the Arrow was cancelled. He made the rank of squadron leader in the RCAF, flying Harvards, T33s, Lancasters and his favourite, CF100s. He met Ruth Marshall on the tennis courts in Moose Jaw, Saskatchewan while stationed there for flight training. She was his rock for 45 years, until she died in 2004. Always movie-star handsome, Don later enjoyed the companionship of his high school friend, Patricia Cooper of Calgary. Among his vast and varied career, Don worked hard as a farmer, a high school physics teacher, a self-employed contractor, a reliability engineer with DND and an engineer at Bombardier, where he eventually retired. He loved sailing and spent many happy years of retirement with Ruth on the Gatineau River at Chelsea, Quebec. He served as Warden at Holy Trinity (Metcalfe), All Saints (Sandy Hill) and St. Mary Magdalane (Chelsea). He was an elected school trustee for the Carleton Board of Education. Don is survived by his daughters, Jane Wright (Norman Greenberg), Halifax NS and Julianne Wright (Mark Quigg), Ottawa and his son, George Wright (Kim MacMullin), Metcalfe Ontario. He was 'grumpy gramps' to Eva and Jenna Mooers, Halifax; Alison, Eileen and Alana Quigg, Ottawa, and Marshall, Rodney and Mary Wright Metcalfe. Great-grandfather of Stella Wyn Mooers. He is also survived by his brothers, Richard Wright (Dianne), Saskatchewan and David Wright (Barb) of Barrie, Ontario, and sisters Sarah Diana (Fred Hope), Washington and Kate McCorriston (Mel, deceased), Nipawin, Saskatchewan. He was "Uncle Don" to 23 nieces and nephews. Friends are invited to visit at the St. Laurent Chapel of Hulse, Playfair & McGarry, 1200 Ogilvie Road (at Aviation Parkway) Ottawa, on Sunday, October 1, 2017 from 1 p.m., followed by a Memorial Service in the Chapel at 3 p.m. Donations in Don's memory may be made to the Royal Ottawa Foundation for Mental Health. Condolences/Tributes/Donations www.hpmcgarry.ca 613-748
Earl Lindsay McCurdy
McCurdy, Earl Lindsay, Lieutenant Colonel – 78, of Lantz, passed away
on June 30, 2017 at the family cottage, Isaac's Lake, Westchester
Mountain. Born in Middle Musquodoboit, he was the son of Everett and
Pearl (Hamilton) McCurdy. Earl attended Acadia University from 60 to 67
while completing RCAF ROTP program. He started his career as a pilot in
the RCAF in Zweibrucken, W Germany. Postings followed in Bagotville,
Kingston, Petawawa, Greenwood, Halifax and Chatham. The pinnacle of his
career as a military pilot was commanding 405 Squadron in Greenwood,
N.S. After retiring from the air force, Earl spent 7 enjoyable years
flying fishery patrols with Provincial Airlines. He loved fishing,
hunting, golf and curling. But his happiest days were spent at the
cottage with family and his dogs. He is survived by his wife, the former
Linda McCully; sons Dan (Judy Butt), Bonnyville, AB; Barry (Chérie),
Cochrane, AB; Chris (Janice), St John, NB; grandchildren, Ben, Matthew,
Renée, Jessica, Cameron and Cara McCurdy; and Sabrina and Gillian
Davidson; and sister Ruth; as well nephews, nieces, cousins and other
extended family. Arrangements have been entrusted to Colchester
Community Funeral Home, 512 Willow Street, Truro (902-895-5587). The
funeral service will be held 2pm, Thursday, July 6 in the Funeral Home,
the Rev. Carolyn Rushton officiating. A reception will follow the
service. Private family interment will be held at the Debert (Plains
Rd.) Cemetery. Donations in memory of Earl may be made to the VON or the
Canadian Heart and Stroke Foundation. Messages of condolence may be sent
to the family by visiting: www.ColchesterCommunity.comMcCurdy, Earl
Lindsay, Lieutenant Colonel – 78, of Lantz, passed away on June 30, 2017
at the family cottage, Isaac's Lake, Westchester Mountain. Born in
Middle Musquodoboit, he was the son of Everett and Pearl (Hamilton)
McCurdy. Earl attended Acadia University from 60 to 67 while completing
RCAF ROTP program. He started his career as a pilot in the RCAF in
Zweibrucken, W Germany. Postings followed in Bagotville, Kingston,
Petawawa, Greenwood, Halifax and Chatham. The pinnacle of his career as
a military pilot was commanding 405 Squadron in Greenwood, N.S. After
retiring from the air force, Earl spent 7 enjoyable years flying fishery
patrols with Provincial Airlines. He loved fishing, hunting, golf and
curling. But his happiest days were spent at the cottage with family and
his dogs. He is survived by his wife, the former Linda McCully; sons Dan
(Judy Butt), Bonnyville, AB; Barry (Chérie), Cochrane, AB; Chris
(Janice), St John, NB; grandchildren, Ben, Matthew, Renée, Jessica,
Cameron and Cara McCurdy; and Sabrina and Gillian Davidson; and sister
Ruth; as well nephews, nieces, cousins and other extended family.
Arrangements have been entrusted to Colchester Community Funeral Home,
512 Willow Street, Truro (902-895-5587). The funeral service will be
held 2pm, Thursday, July 6 in the Funeral Home, the Rev. Carolyn Rushton
officiating. A reception will follow the service. Private family
interment will be held at the Debert (Plains Rd.) Cemetery. Donations in
memory of Earl may be made to the VON or the Canadian Heart and Stroke
Foundation. Messages of condolence may be sent to the family by
visiting: www.ColchesterCommunity.com