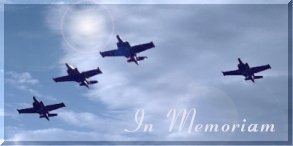 Byron K Doyle
It is with regret that we inform you of the passing of Major (Retired) Byron K Doyle, of Comox, B.C. He filed his final flight plan on June 15, 2022, and was cleared direct to escape the surly bonds of earth to join his beautiful bride Gerrie Doyle.

He is survived by his sister Shirley (Reno, NV); daughter Jaylene of Surrey, BC; Douglas (Lynda) of Victoria, BC; and Elizabeth (Keith) of Richmond, BC; seven grandchildren Jordan, Jerica, Byron, Spencer (Ron), Devin, Brennan and Leah; and two great-grandchildren, Brady and Taylor.

Byron was predeceased by his parents, brothers Charles, Douglas, Timothy and sister Connie.

Byron (BK to his friends), and later in his flying career known as the 'Wise and Ancient Silver Fox', was born in Vancouver, BC, September 1, 1932, to Charles (Paddy) Doyle and Margaret Ilona Doyle (nee Gonczy). Raised in various parts of Vancouver, his family ultimately settled on prime farmland between No. 3 and Gilbert Road along Steveston Highway. Life was difficult and money was scarce for the Doyle family after his father perished in a flying incident July 31, 1940; however, Byron's Mom and siblings sowed love and integrity into their lives which eased their economic burden.

BK's love of flying was instilled by his father and this certainly spurred him to leave the farm and join the Royal Canadian Air Force in 1953. His flight training in the RCAF eventually led him to fighter training on the F-86 Sabre in Chatham, New Brunswick, where he enjoyed poking holes in clouds, and more enthralled when he became smitten with the mischievous blue eyes of Geraldine (Gerrie) Rebecca McCafferty of Newcastle, N.B. Thus began a new chapter of life for BK, with marriage a mere 53 days after his original blind date with Gerrie, and a posting to Europe where Byron would patrol cold-war skies with 444 Squadron stationed at Canadian Forces Base Baden Soellingen, Germany. Byron and Gerrie relished their time in Europe and returned to Canada with an expanded family: Jaylene and Douglas born on German soil.

On their return, Byron was stationed in Centralia, Ontario, and Elizabeth was born.

There are few people who have found a calling in which they excelled and earned a living – one was Byron. He was a pilot. A damn good pilot as testament from those who flew with him. He earned his wings in the Royal Canadian Air Force and flew fighters in Europe, North Africa and across Canada. BK was an accomplished formation aerobatics pilot. He flew with the Smoke Eaters, a Chipmunk Synchronized Aerobatic Team based out of Centralia, Ontario, and as a member of the Golden Centennaires, Canada's RCAF aerobatic flying team formed to celebrate Canada's Centennial celebrations in 1967, displaying 8-plane aerobatics never before seen in the world via an underpowered CT-114 Tutor. The Golden Centennaires flew 121 shows across Canada, the United States and the Bahamas. He flew a multitude of fighters, the last being the CF 101 – Voodoo. However, his fondness for the CF-86 Sabre could never be equalled and was a proud member of SPAADS. While in the RCAF, he assumed the roles of Chief Flying Instructor, Quality Check Pilot and was Base Flight Safety Officer at CFB Comox, when he retired. He was also a Careers Officer when posted to Winnipeg, and President of the Mess Committee when with 416 Squadron in Chatham, NB. After his 'first' retirement, he found time to commercial fish with his older brother Chuck aboard their 62' seiner, the Quesnel Lake; however, the lure of west coast flying meant the loss of sea legs ('second' retirement) and regaining his wings, this time strapped into a Cessna 185 on floats, exploring British Columbia's west coast in support of fishing operations with Quality Fish Company and the Canadian Fishing Co., the latter company at which Byron officially retired for the third time.

Byron and Gerrie had an exciting and fulfilling life due to their postings in Europe and across Canada. They ultimately found home at Crown Isle Resort & Golf Community in Courtenay, BC, among retired military friends and new acquaintances. Note though, their lifetime of being posted and moving every 3 – 4 years continued, and they did feel the need, for one last 'move' within Crown Isle, to their last home which became an oasis of serenity for Byron and Gerrie to host soirees, children, grand and great-grandchildren and friends.

Byron was an avid golfer and enjoyed the comradery of playing 18 holes just outside his doorstep – he was competitive with an enviable handicap and was an obvious choice to complete a foursome for tournaments. His golf cart was seen from fairway to grocery store, and often with a grandchild at the wheel.

Byron and Gerrie for many years would vacation with family and friends in sunny Arizona. Bryon loved animals, especially his Schnauzer, Charli, and for many years supported the local branch of the SPCA.

Another passion was riding 2-wheeled vehicles: one would never have thought Byron was bike gang material, however, he did pull this off with a louder-than-he-would-care-to-admit Harley Davidson cruising about on Vancouver Island and Mainland BC outings with the 'gang'. When asked why he so enjoyed longer trips he replied "… because the best cinnamon buns are on the road". He cultivated many friends from his motorcycling sessions and they remained active in his life, despite handing over the keys a few years ago. Byron's other 2-wheeled mode of transport was his prized Colnago racing bicycle and this kept him active on the backroads of Comox and Courtenay, revelling in human-powered freedom: it was amazing to relate to others that Byron continued to bicycle well into his 89th year.

He was active as a volunteer with the Comox Valley Hospice Society, and supported the Comox Valley Transition Society, as well as the Comox Valley & District BC SPCA Branch.

Byron was two and a half months from his 90th birthday when he passed away, and his family had planned to celebrate this milestone with a gathering of the clan to fete his accomplishments of life. Unfortunately, this was not meant to be as Byron was diagnosed with a terminal illness which wreaked its finality in a matter of weeks.

As a family, we came together to fulfil our father's wish to remain at home and to pass in his oasis of peace and comfort. His children were at his side to assist this transition to join his beautiful bride and their mother, Gerrie. Byron knew he was terminal and he accepted his fate with grace, strength and humour, confirming he had lived an adventurous and full life with no regrets and, of course, replete with love. He was determined to exit this world on his own terms and at his own pace, which he did.

A heartfelt thank you to Dr. Anderson and staff, as well as the Home and Community Care Team who were exceedingly attentive to Byron's care.

A Celebration of Life will be held at the Officers Mess, CFB Comox, September 3, 2022, commencing at 1:00 pm.

Per Ardua Ad Astra
Lauris Gregory Guptill
1939-2022
Lauris Gregory Guptill – age 82, of New Minas, Nova Scotia, passed away peacefully at home on Friday, June 17, 2022 with his family and dearest friends by his side. Born in Grand Harbour, Grand Manan, NB on December 17, 1939, he was the second son of the late Winston and Marjorie (Ingersoll) Guptill.
Lauris enjoyed a number of careers - a commissioned officer in the Royal Canadian Air Force as a navigator following graduation from High School, followed by two years as a commercial fisherman on Grand Manan Island, then as an Air Traffic Controller in Moncton and Fredericton, NB and St. John's, NL. This was followed by 30 years in various financial and administrative positions with all three levels of government. After retirement Lauris operated his own businesses with his daughter Tara – the work and the people he enjoyed most – a business that is profitable and thriving today under the excellent management of Tara. A very special thank you to his friend Cody - who asked him to be a part of the development of his business at a time when he felt he had been "put out to pasture".
Lauris is survived by his best friend and wife of 58 years, Paula (Lucas); daughter and special friend, Tara (Don) Fowler and very special grand-daughter, Eva (I've loved you girls more than I can tell); brother, George (Rose), St. George, NB; and sister, Sherrill Perry, Saint John, NB; God daughter, Allison (Allie) MacFarlane; God son, Peter Sonnenberg; and many nieces, nephews and cousins as well as chosen "family", Doris and Phil Ells and Melanie Sonnenberg of Grand Manan, NB; and chosen "family", Doug and Jill and Ashley and Cody Holland of Coldbrook, NS. He was predeceased by his father, Winston; mother, Marjorie; sister, Suzanne Delaney; brother, Michael; brother-in-law, Gilbert Perry; brother-in-law, Jack Delaney; sister-in-law, Cindy Guptill; and God son, Phillip Ells.
There will be no visitation. A memorial service will be arranged, including a service in St. John's Anglican Church in Port Williams with a graveside committal following the service, at a later date to be decided. Donations should be made to the charity of your choice. At your convenience, please visit Paula, Tara and Eva and share your remembrances of your times with Lauris. Arrangements have been entrusted to the White Family Funeral Home and Cremation Services, Kentville. Online condolences and inquiries may be directed to www.whitefamilyfuneralhome.com.
As I move on to the next stage of my journey, I would like to
say "Thank You" to a number of people who made this part of
my earthly journey with me.
Thank you to those who loved me,
You made my heart grow fonder.
Thank you to those who cared,
You made me feel important.
Thank you to those who entered my life,
you made me who I was.
Thank you to those who left,
You showed me that nothing lasts forever.
Thank you to those who stayed.
You showed me true friendship.
Thank you to those who listened,
You made me feel like I was worth it. May God Bless you all.
Harry F. Kelly
November 16th 1936 – June 6th 2022
Karyn Sanders (daughter) and Judy Webber (wife) are sad to announce the passing of loving father and husband, Harry F. Kelly. Harry passed away on June 6th 2022 at his home in La Mesa, California with Judy by his side. Harry was 85 years old and had battled Parkinson's for the past few years.
Harry did not want a Funeral or a Celebration of Life. He just wanted his family and friends to raise a glass and remember the good times they had all shared.
Gordon Brett Smith
It's more about how he changed the world around him. Throughout his long, well lived life, he was a man of honour and service to his family, his community and his country.
Gordon was born in Winnipeg, Manitoba on August 9, 1923. His young man's dream was to fly, so after high school graduation in 1941 he answered the call and enlisted in the RCAF. He earned his Pilots Wings the following year. In 1968 he retired as Flight Lieutenant/Captain, "Gord the Whip" from NORAD
Intelligence, Duluth, Minnesota.
In June of 1944 he swept a Scandinavian beauty, Sophie Severson from the Prairies into his arms and flew into the wild blue yonder to bless this country with three accomplished children, Gordon (Sheryn), Judith (Tim) and Gregory (Julie). Beginning their married life in Winnipeg, Gordon literally, built their first home. Sophie however, soon became a woman of the world as she packed up all of their earthly possessions, their children and enabled Gordon to pursue military postings across the globe. They lived in various cities in Canada and the US as well as Europe. The children enjoyed an enriched life touring castles and climbing fjords while developing worldwide friendships that would last a lifetime.
Gordon's outgoing personality was the perfect balance to Sophie's quiet demeanor and they too developed everlasting friendships across the continents.
One of the many positions Gordon held during his career with the RCAF was that of Flight Instructor during WW2. But Gordon was much more than an instructor, he was a teacher. He taught us all about courage, fortitude and making a positive difference in the world.
The most important thing he taught his children was how to think. It gave them the crucial tool with which to build and fashion their careers and their lives. Although a cliché, Gordon led by example. He involved himself in community and church everywhere he lived. He was gifted with golden hands that built
houses, fixed all things broken and encircled his family with love.
In 1992 Gordon lost his beloved Sophie to cancer. In 1994 he re-married into the Severson family and joined hearts with Evelyn (White) Severson. They enjoyed 11 years of marriage and Gordon was thrilled with two wonderful step children, Kenneth, who passed Dec 2021 (Shannon), and Linda (Joe) and a wonderful clan of step grand, great-grand and great-greatgrandchildren with whom he spent many, many memorable adventures.
Gordon is also survived by his brother Leonard, grandchildren Dylan Schultz (Marlies); Jennifer Boeda (Jeff), great grandchildren Sophie, Penny Boeda; Kyle (Teresinha) Smith; Rae-Jayne and Daniel Smith and sisters-in-law Janet Smith and Laura Leoppky, brothers-in-law David and Oliver Severson as
well as numerous, loving nephews, nieces and their families. He was predeceased by his brother Bernard Smith and sister Peggy Welham.
A Memorial Celebration is planned for Saturday, June 18th, 2022 beginning at 2 PM. All are welcome to attend. Address: 2087 McMillan Road, Abbotsford, BC, Canada.
In lieu of flowers donations in Gordon's memory to CNIB would be appreciated.
Lloyd Graham
Major (Ret'd) Lloyd Edward Graham, OMM, CD, 84, passed away peacefully on April 30, 2022 after a short but fierce battle with cancer. He is survived by his wife of 60 years, Mary Louise (Jarand), his sister Marilyn Morris, his two children, Gordon Graham and Karen Best and four grandchildren, Amanda & Mackenzie Graham and Adam & Ryan Best.
From Mountain Park, Alberta, Lloyd knew from childhood that he was destined for a career in aviation. He joined the military at 18 and married his sweetie, Mary-Lou, at 24. They raised their children in 5 provinces and settled in Nova Scotia after retirement.
Lloyd spent 39 ½ years serving Canada in the RCAF and dedicated an unimaginable number of hours to organizations close to his heart – Greenwood Military Aviation Museum, VP International, Lake George Property Owners Society, St. Mark's Chapel and the Canadian Cancer Society. He considered it a privilege to be appointed the Honorary Colonel of 404 Sqn in 2008 for 4 ½ years. His awards include the Order of Military Merit, a Lifetime Achievement Award from the Canadian Cancer Society and the Remarkable Seniors Award from the Province of Nova Scotia. He was a legendary crud player, a remarkable whistler, a novice ukulele enthusiast, and an epic storyteller. He will be missed immensely by all whose lives he touched.
Heartfelt thanks go to his team of doctors and nurses at the Valley Regional Hospital for the exceptional care he received.
Donations in his memory may be made to the Greenwood Military Aviation Museum, Valley Regional Hospital Foundation or the charity of your choice.
Friends and family are invited to "swap stories" of Lloyd at a celebration of his living on Tuesday, May 24, at the CFB Greenwood Annapolis Mess from 14:00 to 16:00 hrs. A private service will be held at Beechwood National Military Cemetery in Ottawa, ON at a later date.
Per Ardua Ad Astra