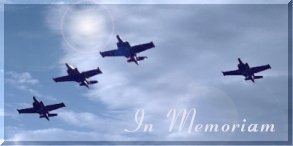 This page is dedicated to those members who have recently passed away. Our condolences to family and friends
Carl Sandelin
Mr. Carl Sandelin on Sunday April 1, 2018 at the Cornwall Community Hospital at the age of 81 years. Beloved husband to Dawn Sandelin (née Graveley). Cherished father of Lynn Poncelet (Gerry), Shelley Britten (Matt), and Brent (Linda). Carl was a terrific Grampa to Kelly, Venessa, Lindsay, and Christopher and his great-grandchildren Jessielyn, Cora, and Novalee. Dear brother to Linda Palter (Phil). Predeceased by his parents Clyde and Beatrice (née Leger) Sandelin. Carl is remembered as a retired Air Canada pilot who also flew for the Royal Canadian Air Force. In keeping with his wishes, cremation has taken place. Contributions in his memory to Hospice Cornwall would be appreciated by members of the family. Online messages of condolence may be made in the obituary section of: www.wilsonfuneralhome.ca
Robbin Henry Carlson
ROBBIN HENRY CARLSON April 10, 1938 - March 9, 2018 Robbin Henry Carlson, 79, of Winnipeg, Manitoba, died on Friday, March 9, at the Grace General Hospital. Born in Venn, Saskatchewan, to Raymond and Ada Carlson, he lived most of his life in Winnipeg. Robbie was a very kind and gentle man, he enjoyed watching good old westerns on TV, listening to country music, his truck, painting, and spending many summer days on the 18th hole at Breezy Bend Country Club. He also enjoyed a varied career in his youth, but his career as an Air Canada pilot was by far his favourite. Sadly this was cut short due to a diagnosis of MS, which he fought for almost 30 years, right to the end. He is survived by his loving wife of 31 years, Anne Ryan; his daughters, Lisa (Oscar), Jill (Eric) and Joanne (Ron). His six grandchildren, Zachary (Sarah), Matthew, Ciara (Josh), James, Isabel and Max; as well as the lights of his life; his great-grandchildren, Robyn-Grey, Hunter and Désirée. He is also survived by numerous brothers, sisters, nieces, nephews, aunts, uncles and cousins, who are all bereft at his death. There will be a celebration of his life this summer in Watrous, Saskatchewan. We would like to thank all the nurses, doctors and staff at the Grace Hospital for all their kindness and care during this difficult time. INTEGRITY Cremation & Funeral Planning 204-295-5408 IntegrityDeathCare.com
Charles Kemp

KEMP, Charles (Chuck) Went home to be with the Lord surrounded by the love of his family on Tuesday, February 27, 2018 at 82 years of age. Beloved husband of Cheryl. Loving father of Christopher Charles, Nadine Karin and Amy Wei-Ling. Cherished grandfather of Landon Lloyd, Ardyn Monique, Joshua, Jordan, Joey, Jewel and Megan. Dear brother of Lois Phillips. Chuck is now reunited with his loving daughter Darcy Noelle. Chuck served as a pilot with the RCAF and now has his "wings" back again. He was also employed with Transport Canada for 13 years. Chuck gave to many charities, so in lieu of flowers please donate in Chuck's name to www.wellspring.ca or a charity of your choice. A service to celebrate Chuck's life will be held at Faith Welland, 380 South Pelham Rd. on Monday, March 5, 2018 at 11 a.m. with visitation at the church one hour prior to service. Arrangements in the care of WELLAND CREMATION SERVICE 905-735-7957
Neil O'Neill
Dec 12, 1941 – Dec 28, 2017
We are deeply saddened to announce the passing of Neil O'Neill on December 28, 2017 in his 77th year. Neil O'Neill beloved husband of Marilyn for 52 years, loved and cherished father of Timothy (Alvina Shih) of California, Christopher of Alberta and very proud grandpa of Samantha and Dylan Jake. Neil was a life-long passionate aviator. He found his true calling as an RCAF Officer, Air Canada Captain and Instructor contributing his wisdom and experience so that others could grow. We wish to thank the many Doctors and Nurses at Royal Jubilee and Nanaimo Regional General Hospitals for their exceptional care and heartfelt compassion. Respecting Neil's wishes cremation has taken place. A Celebration of Life will be held at a later date. We wish Neil peace and calm skies on his final flight.
"I will hold you in my heart until I can hold you in Heaven."
Condolences can be sent to sandsfh@arbormemorial.com
Douglas George Stuart
May 19, 1935 – Dec 22, 2017

Doug Stuart passed away peacefully in his wife's arms at North Island Hospital Comox Valley on December 22, 2017.
Doug was born in Norquay, Saskatchewan to his parents, May and George Stuart. He was a tireless sportsman during his youth including hockey, curling, and A-league baseball. He was drafted to play hockey for a Chicago minor-league team, but turned it down to join the Air Force. He later won the MacDonald Provincial Briar for curling in 1965, and was a par-golfer for most of his life. He was also an avid skier and became a ski instructor when he was close to, and throughout, his retirement.
Doug and his wife, June (nee Rempel) had two children, April and James. The family spent many years together moving all over Canada including Comox, BC, and Cold Lake, AB, and were also stationed in Colorado Springs, Colorado for a few years. Doug eventually retired back on the west coast in the Comox Valley; James and April reside in Victoria, BC.
Doug was a pilot for most of his career with the Canadian Air Force and retired as a Lieutenant Colonel. Highlights of his significant military career include ejecting out of a Voodoo fighter plane in 1971, and commanding the British Columbia Search and Rescue Squadron in Comox, BC. He was extremely well respected by his superiors, his peers, and members of his squadron.
He received numerous awards and honours including an award as a NORAD officer of the year, an official thank you from the crew of Air Force One, and an Order of Military Merit from Governor General, Jeanne Sauve, in 1984.
After not seeing each other for over fifty years, Doug was reunited with his Regina Luther College high school sweetheart, Sharon. They were married Valentine's Day, 2014. Doug's strong faith in God became very evident during his final two years of life as he, with Sharon at his side, faced a myriad of medical challenges and procedures. They continued to share their time between BC's Comox Valley and Saskatchewan's Buena Vista.
Doug was a teller of stories, a lover of jokes, a romantic at heart and a loving husband, father, and friend.
He will be greatly missed by his wife Sharon Stuart, his son, James Stuart, his daughter, April Murphy, and his son-in-law, Paul Murphy.
Doug's family appreciates the care, concern, and encouragement that they have received and they know that his memory will remain in the hearts of his countless friends, especially on the Island, in Saskatchewan, and everywhere Doug made his home over the years.
A service in celebration of Doug's life will be held on Saturday, January 13, 2018, at 2:00 p.m. at Air Force Association of Canada 888 Komox Wing, 1298 Military Row, Lazo, BC V0R 2K0.
In lieu of flowers, donations may be made in memory of Doug Stuart to The Salvation Army or Courtenay Fellowship Baptist Church.
Robert Kenneth Joseph Landry
LANDRY, Captain Robert Kenneth Joseph (Ret'd) C.D. - February 23, 1945 - October 10, 2017.
Bob 'Bobby' Landry recently left on his last flight, headed up into the sky and what lies beyond. There are so many words to describe the loving husband, proud father, and grandfather (Pepère), brother, uncle, cousin and friend he was, and here are just a few: strong, caring, helpful, full of life, enthusiastic, sincere; a teacher to all about history, world affairs, geography, and above all - how to be a good 'sportsman' when you are part of a team.
Bob enjoyed an incredible and successful career in the Canadian Armed Forces. He joined the military as a navigator and became a pilot in 1972. During his 33 years of service, Bob flew a variety of aircrafts, including: Trackers, Dakotas and the T-33 Silver Star jet. In addition to being a dedicated pilot, he was also a test pilot and a flight safety officer. In 1999 Bob was recognized with the prestigious Wing Commander's Commendation for his work in flight safety in CFB Greenwood, Nova Scotia.
He was a passionate athlete, and enjoyed great success in track and field and football in his youth. Bob was also an avid and dedicated hockey player
and took great pleasure in playing on a number of teams throughout his life. A friend to all, Bob's personal mantra was, 'I am my brother's keeper' - and he certainly was that.
Bob is survived by his wife of 53 years, Barbara (Giroux); children, Lisa (Dylan), Paul (Jessica), Aimée (Rick); grandchildren, Nathalie, Nicholas and Olivia; sisters, Michelle and Teri (Ed); nephews, Scott (Cathy) and Gregg (Pam), and nieces, Addison and Samantha. Bob may be flying amongst the stars now, but he will always be at home with us in our hearts. XO A Celebration of Bob's life will be held on Monday, October 30th at 2 p.m. in Kings Mutual Century Centre, 250 Veterans Dr., Berwick. In lieu of flowers, the family has requested that donations be made to the Society of Atlantic Heroes Recovery and Reintegration (atlanticheroes.org) or a charity of your choice. Arrangements have been entrusted to Serenity Funeral Home, 34 Coldbrook Village Park Dr. (902-6792822). Online condolences may be made by visiting: www.serenityfuneralhome.ca