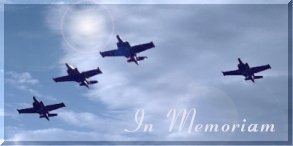 This page is dedicated to those members who have recently passed away. Our condolences to family and friends
Robert Mulvihill
Major Daniel Robert "Bob" Mulvihill CD (RCAF, Retired) died peacefully at home in Ottawa on May 25 2018, one day shy of his 76th birthday. Bob is survived by his wife Helen (née Rowe), his daughter Shauna, and her husband Edward Hashima and his grandson Benjamin; his son Corey, and his wife Daina Mazutis and his granddaughter Emilija; by his sisters Adrienne, Margaret, Betty, Alice, and Imelda; and his brothers Patrick and Thomas; and predeceased by his son Darcy, and his brother John.

Uncle Bob will be fondly remembered by his many nieces, nephews and great nieces and great nephews and the large extended Rowe and Mulvihill families; and especially by his goddaughter Janet and her sister Alison Burton.

Bob was born on May 26 1942 in Renfrew Ontario to Agnes (née Kubiseski) and Leo Mulvihill, and after attending preparatory year at Collège militaire royal de Saint-Jean, Quebec (CMR) in 1961 he graduated from the Royal Military College in Kingston, Ontario (RMC), in 1965, first in his class in Electrical Engineering. He had a varied career with the RCAF and Canadian Forces Air Command, first as a navigator and a pilot with 416 and 409 squadrons flying CF-101 Voodoos, then as jet conversion flight instructor, a flight safety officer, commander of Canadian Forces recruiting centre in Hamilton, and on two exchange tours with the USAF in California and with NORAD in Colorado Springs, Colorado. Returning to Canada, he retired from the Military in 1995 and joined the civil service working as a System Engineering Manager for the Canadian Search and Rescue Helicopter Project, which established the Cormorant as a Canadian Forces' sea and air search and rescue helicopter.

Bob was well known to his friends and family as someone who could build or fix anything, and his help and advice was often sought and generously given. He was an avid outdoorsman who greatly enjoyed hunting and fishing, and loved spending time at the cottage in PEI, and playing with his grandchildren and great nieces and nephews. He had a particular love of children, who universally reciprocated, seeing in him a kindred spirit. Bob was also an active and dedicated member of the Ottawa Traditional Fiddle and Folk Art Society and past-president of the NDHQ Fish and Game Club.

A funeral is scheduled for Wednesday the 30th at 11 a.m. at Saint Bernard Catholic Church, 1720 St. Bernard Street, Gloucester, ON, with a reception to follow. All are welcome to attend and celebrate Bob's life. In lieu of flowers, please send donations to Plan International Canada at http://plancanada.ca or 245 Eglinton Ave East, Suite 300, Toronto, Ontario, M4P 0B3. Condolences may be sent to the Funeral Co-operative of Ottawa, 419 St Laurent Blvd, Ottawa, ON K1K 2Z8 or at http://fco-cfo.coop.
Kenneth J. Thorneycroft
Lieutenant-General K.J. Thorneycroft, CMM, CD
Kenneth John Thorneycroft passed away peacefully on 4 May 2018 at the age of 90. Born on 24 March 1928, Ken spent his early years in Swift Current, Saskatchewan until he joined the Royal Canadian Air Force in 1946. Ken enjoyed a fantastic and very successful 37 year career in the Air Force. He became a pilot in 1948 and flew many types of aircraft; the Vampire, Sabre, Harvard, CF 104 Starfighter and the CF 101 Voodoo. His career included many postings in Europe, Canada and the United States.
Early in his military career, Ken met and married the love of his life. Joan Isabelle (nee Rowland) was a registered nurse working at the Montreal General Hospital. They got married on 12 September 1953 and for the next 30 years both Ken and Joan dedicated themselves to Ken's career in the military, often acting as Canadian ambassadors in a multitude of ways. They both loved meeting new people and travelled extensively throughout Europe, Canada and the United States. Highlights of their travels included touring our Great Canadian White North while stationed in Yellowknife, NWT and living in Germany and Colorado Springs. As much as Ken enjoyed his work, it was always the people that he and Joan met along the way that touched their hearts the most. Probably his most rewarding posting in the military was his last one in Colorado Springs, Colorado. He was appointed Deputy Commander in Chief (DCINC) NORAD and was promoted to the rank of Lieutenant-General. He and Joan became an integral part of the Canadian NORAD family and thoroughly enjoyed their 3 year posting.
Following Ken's retirement from the Royal Canadian Air Force in 1983, Joan and Ken enjoyed living in Stittsville, Ontario where they became involved in the local community. Ken worked as the head of the Transportation Safety Board as well as being the Chairman of the Canadian Aviation Safety Board until fully retiring in 1988. Ken was also a proud member of the Bravery Awards Advisory Committee at Government House for 25 years. The area of expertise that Ken brought to the Board was as Special Adviser, specifically using his military background. He had an especially soft spot in his heart for the Search and Rescue Technicians (SAR Techs) who put their lives at risk anytime they went out on a mission to save lives.
Aside from his dear Joan, Ken's love was centred on his 3 children; Sandra (husband Bruce), Diana (husband Michael) and Robert (wife Kathy). During their retirement years, Ken and Joan spent many happy years at their beloved cottage on Lac St Pierre, Quebec. This was a "little piece of heaven" that he and Joan shared with both family and friends. A place where his grandchildren Lindsay, David, Andrew, Whitney, Jordie and Christine loved coming to visit and to learn to swim, waterski and truly appreciate the outdoors.
On Joan's 80th Birthday, she and Ken became benefactors to the newly formed Goulbourn Girls Hockey Association. Even following Joan's death in 2012, Ken continued to support the association and enjoyed handing out the hockey awards at the end year banquet. The family asks that any donations be made to this exceptional organization on his behalf.
The family would also like to thank the staff of the Almonte Hospital who took such great and tender care of Ken during his last few weeks on earth. Thank you.
Ken (or Puzz or Grandaddy or Great Grandaddy) will be sorely missed. He enriched the lives of all that he met, showed us that a great sense of humour goes a long way and remained a true gentleman in every sense of the word until the day he died. We love you Dad. You are now with your sweet Joan, with God in Heaven.
Relatives and friends will be received at the Garden Chapel of Tubman Funeral Homes, 3440 Richmond Road, (between Bayshore and Baseline Road) on Wednesday May 9th, 2018 from 6:00 p.m. – 8:00 p.m.
A funeral service will be held on Thursday, 10 May 2018 at St Thomas Anglican Church, 1916 Main Street, Stittsville, Ontario at 2:00 PM.
For donations to the Goulbourn Girls Hockey Association, please go to http://ggha.ca. Condolences, tributes and donations may also be made at www.tubmanfuneralhomes.com.
Sidney Rennick
Saturday April 7, 2018 Sydney Rennick passed away peacefully in his sleep. Predeceased by his wife Violette Rennick (nee Jean), he is remembered by his daughter Tobbie Amyotte (Philip Amyotte) and his son Stacy Rennick (Megan Rennick) and his adoring grandchildren, Tom, Tyler, Olivia and Hudson. He will also be missed by his many friends and members of the Royal Canadian Air Force and Transport Canada. Please join us Saturday April 21st at the Westboro branch of the Royal Canadian Legion from 2-5 pm to share stories and tip a few in Syd's honour
Carl Sandelin
Mr. Carl Sandelin on Sunday April 1, 2018 at the Cornwall Community Hospital at the age of 81 years. Beloved husband to Dawn Sandelin (née Graveley). Cherished father of Lynn Poncelet (Gerry), Shelley Britten (Matt), and Brent (Linda). Carl was a terrific Grampa to Kelly, Venessa, Lindsay, and Christopher and his great-grandchildren Jessielyn, Cora, and Novalee. Dear brother to Linda Palter (Phil). Predeceased by his parents Clyde and Beatrice (née Leger) Sandelin. Carl is remembered as a retired Air Canada pilot who also flew for the Royal Canadian Air Force. In keeping with his wishes, cremation has taken place. Contributions in his memory to Hospice Cornwall would be appreciated by members of the family. Online messages of condolence may be made in the obituary section of: www.wilsonfuneralhome.ca
Robbin Henry Carlson
ROBBIN HENRY CARLSON April 10, 1938 - March 9, 2018 Robbin Henry Carlson, 79, of Winnipeg, Manitoba, died on Friday, March 9, at the Grace General Hospital. Born in Venn, Saskatchewan, to Raymond and Ada Carlson, he lived most of his life in Winnipeg. Robbie was a very kind and gentle man, he enjoyed watching good old westerns on TV, listening to country music, his truck, painting, and spending many summer days on the 18th hole at Breezy Bend Country Club. He also enjoyed a varied career in his youth, but his career as an Air Canada pilot was by far his favourite. Sadly this was cut short due to a diagnosis of MS, which he fought for almost 30 years, right to the end. He is survived by his loving wife of 31 years, Anne Ryan; his daughters, Lisa (Oscar), Jill (Eric) and Joanne (Ron). His six grandchildren, Zachary (Sarah), Matthew, Ciara (Josh), James, Isabel and Max; as well as the lights of his life; his great-grandchildren, Robyn-Grey, Hunter and Désirée. He is also survived by numerous brothers, sisters, nieces, nephews, aunts, uncles and cousins, who are all bereft at his death. There will be a celebration of his life this summer in Watrous, Saskatchewan. We would like to thank all the nurses, doctors and staff at the Grace Hospital for all their kindness and care during this difficult time. INTEGRITY Cremation & Funeral Planning 204-295-5408 IntegrityDeathCare.com